Designed and hand built with pride entirely in the USA... since 1995
Not just a chair, CommandCon is an expandable, patented, modular clamp-on mounting system designed to attach to most standard styles of armchairs. Affordable, versatile and built to last for many years! Customize the layout any way you wish. Reconfigure the whole system in a few seconds with no tools. Don't want to use a device for a while? Simply pivot unused devices out of the way, ready for instant use. No need to disconnect!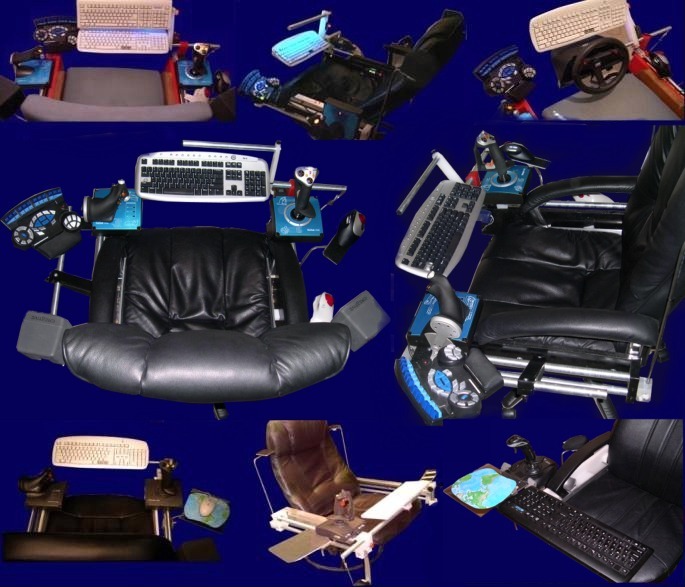 Usable by anyone wanting a total immersion gaming experience or just wishing to be free of a desktop keyboard or peripheral device. Mounts joysticks, keyboards, mouse pads, trackballs, lights, steering wheels, surround sound systems, game pads... dozens of available accessories! Free up desk space for other items, or eliminate that big, clunky desk altogether! Great for programmers, data entry, AutoCAD, industrial workstations, etc. Adaptable for wheelchairs, hospital beds, vehicles... All types of uses.
Lightweight yet Strong:
-Unlike flimsy bar-and-rod mounting systems, the main devices are solidly supported on rigid rails. Zero movement! Even under heavy pressure and rough use.
-Precision machined from high density polymer and steel. Wears better, lasts longer than steel or aluminum! read why!
-Designed to last for years. Can be adjusted over and over with no weakening or failure of the components!
- The Original System is now over 13 years old yet despite daily use, it still functions as good as it did the day I built it! Never once has it failed!
Adaptable mounting:
-All mounts are adjustable in multiple axes and can be mounted on any rail - left, right or front (you can even add more rails!).
-Easily add new devices at any time... you can mount a huge number of devices on one system.
-Mirror imaged: Keyboard rail and all devices are easily reversible and can mount on either side!
-The patented clamping system mounts to most standard chair arms in minutes!
No drilling, no cutting.
This is the ONLY true clamp-on system legally available (patent protected)... everything else is just a copy!
User Friendly:
-No removing devices to get in or out! The top rails pivot the keyboard along with any devices on the top rail
up and away with a simple push (there is also a lock to secure the crossrail in the up or down position*).
-The lower rails remains fixed for stationary devices such as a mouse pad, speaker mounts, clipboard, etc*.
-No need to remove or disconnect unused devices! Just pivot them out of the way for later use!
No tools, no fuss.
-All devices are independently adjustable in multiple axes, on the fly, in seconds... with no tools!
Customizable:
-Purchase a basic system now. Later, expand your system by adding mounts for whatever devices you need:
Rear speakers, notepads, lighting systems, steering wheels, extra keyboards, game pads, laptops….
The list goes on and on. You are in control!
- Mix and match component parts to build your own custom mounts.
- None of my competitors have a system that can be expanded like this. Simply slip on additional mounts. No messy holes drilled in your chair, No additional mounting systems to buy. CommandCon is designed to be adapted, modified and adjusted whenever you wish without having to redrill and relocate mounts.
Cost Effective:
-Unlike other large, bulky systems costing thousands or overpriced, flimsy junk, this system is offered at a very reasonable price and will not wear out and break in a few months (or years).
-Because of its modular nature, you can start out small and buy add-on mounts and components as you need them later!
- Cost effective because unlike competitor systems, this system will last for many, many years.
Once you own one of these you'll wonder how you ever lived without it… it really is that good!
* CommandCon features. Other models may have different features. See item description for details.